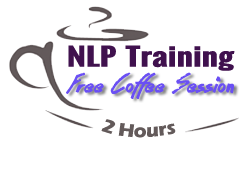 This is a  2 hours 'NLP Training Coffee Session'. Yes… only for those who are eager to change.
Imagine…
What it would be…..if
With NLP Training you could make the most difficult changes that you aspire, so easily!
Achieve biggest goals that you dream, enjoy closeness in the precious relationships you have, vibrate with energy and level of health that you want, have ultimate ecstasy and peace of mind while you live and so on
Unbelievable…eh??
If you have  a doubt, how can a BIG change happen in a SHORT NLP Coffee session.
Welcome the transformation power of NLP in your life!!
Join us for a special evening session:
"Learn a Quick NLP Technique, Know more and be a Star"
In a NLP Coffee Session, you can:
Feel more enthusiastic, gracious and in control… to take life ahead in a much faster and highly delightful manner
Come and have a feel of NLP, hear from the people who use its amazing power to program and model excellence, see the magical abilities, create lasting impact conversationally, skilfully and in many other ways
Learn more about NLP, its applications, interact with the NLP masters, ask questions and know more….
'NLP Coffee Session'…. specially blended and brewed for you. Taste it, Experience it and Enjoy…
India's most experienced and powerful NLP Masters Sat and Siri will facilitate the NLP Coffee session.
Irrespective of who you are:
HR personnel, HOD, Business Leader, CEO, Manager, Senior Executive, Speaker, Trainer, Consultant, Entrepreneur, Health Practitioner, Therapist,
or
a Housewife or an MBA student or student availing higher education
NLP Coffee session will be highly useful and informative for you.
Interested ?
Please note that this is a specially organised NLP Training session for invitees. However, we have limited seats and registration is on first-cum-first serve basis.
Kindly send us confirmation of your participation via email (at info@achievethebest.com) with your name, company name, email id and phone number.
For more information, you may call us at 09811379590