NLP for Executives & Managers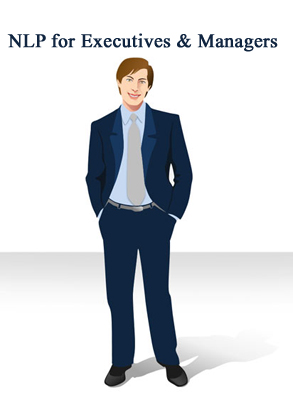 Execution means getting things done!! Consistently improve the quality of results and being more effective in your performance.  Fortunately, the NLP techniques connect you directly to the heart of thinking processes, which determine core attitude. Once understood, it is just a cakewalk to execute or getting hardest of task executed.
Get to understand the language of brain to set clear goals
Take leverage of propulsive force to steer ahead at the speed of rocket.
Track right on path without ever getting drifted.
Get tons of workload delivered without a sign of stress or boredom.
Solve complex riddles model solution focused approach.
Instant and deep rapport building with colleagues.
Use directive questioning to secretly elicit others strategy.
Command embedded phrases to put anyone at ease while negotiating masterfully.
Are you required to take battery of people move with you and manage them? Do you know what is in their mind before you ask them to work? Managing people is managing from the heart. When you understand how people use their brain, it becomes easier to get things done.
An intelligent manager knows how to frame people in the right mind set and mental state. NLP technology perfectionise you to make people use their brain.You can handle the avalanche of emotions and channelize then into a cool stream of river to connect with people without labeling and judging them as unwilling.
Rediscover your natural ability to ignite a spark in others and motivate people.
Intelligently handle and channelize avalanche of your emotions.
Address others objections elegantly and wisely.
UNLEASH personal and collective creativity, open the 'can of ideas to splash into work'
Excite people to boost their performance, let your words trigger adrenaline in their blood stream.
Despite turbulence and unpredictable environments, maintain personal composure.
STOP unproductive and unhealthy habits, such as procrastination, over-eating etc.
Putting an end to self-sabotaging decisions and attitudes.
Resolve and manage internal and external conflicts. Create happy chemistry
Install powerful belief system in others; make them do what is seemingly impossible.
Managing self is easier; managing others is science and art. NLP tool set excites you to be unmatchable articulated to make people flow with you. Don't you aspire every moment to be in a terrific state that can make you say, "Actually I don't have to manage people because I make them self-motivated and committed. People love to bond and they have inner zeal to work with me. I am good at consciously managing the sub-conscious of my people. Managing people is in fact managing their heart and mind. Fortunately NLP is all about people and mind"